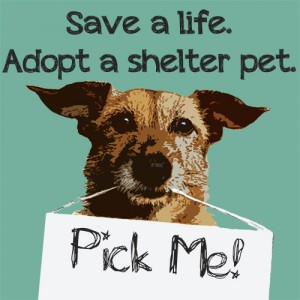 Reasons To Adopt A Shelter Dog:
1
. You'll help save 2 lives - the animal you adopt and a homeless animal who can be rescued because of the space you helped free up.
2
. You'll be supporting a life that already exists.
3
. You'll be giving a homeless or relinquished dog a better life and a great forever home.
4
. Some (not all) shelter dogs have been abused and treated horribly and it would be so amazingly wonderful for them to go to homes where they're loved and cherished.
5
. If you were a homeless animal, wouldn't you want someone to give you a loving home?
6
. You won't be supporting a puppy mill.
7
. It feels so darned good to save a life.
8
. You'll save wads of cash! (Adopting a dog from a shelter is way cheaper than buying from a pet store or other sources
AND
shelter dogs are already spayed, neutered and vaccinated
AND
in some areas like where I live, they have specials and amazing promotionals throughout the year like giving dogs away for FREE!
9
. It's a most noble deed and the greatest form of recycling! :)
10
. It helps end animal homelessness.
11
. It's so very cool! You will join countless other awesome, humane, caring, superstar human beings who've adopted pets AND most importantly, you'll be a rock star to your newly adopted furry baby! Woohoo!!
12
. It eradicates loneliness of these beautiful living animals.
13
. It's shows your depth and humanity.
SHELTER DOGS ARE AWESOME!!!